Wholesale Ribbons, Trims & Other Key Collections
Featured Wholesale Ribbon & Trim Products
JKM Ribbon & Trims showcases the best and latest ribbon, trims, accessories and much more in JKM's Featured Ribbon & Trim section.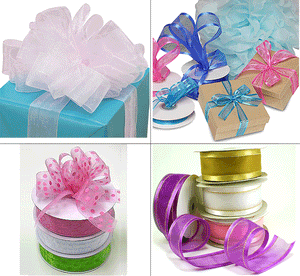 JKM Ribbon & Trims Wholesale Sheer Ribbon Collection
JKM sheer ribbons are available wired, unwired or with monofilament edge at low, wholesale prices in various widths, colors and put ups. Styles range from organdy sheer and organza sheer ribbon to metallic sheers, satin edge sheers, ombre organza sheer ribbon and many more types of sheers. Wholesale sheer ribbon provides a personal touch of elegance to any gift, wedding favor or special invitation. Further, wholesale sheer ribbons are great for packaging, making a bow or adding to your craft decoration. Come view our quality selection from Morex, JKM and more.
JKM Ribbon & Trims Wholesale Satin Ribbon
JKM Wholesale Ribbon & Trims luxurious satin ribbon are available in single faced satin, double faced satin, acetate satin, floral and packaging satin ribbon, wired satin ribbons and plenty more. Wholesale satin ribbon makes the perfect companion to gifts, wedding favors, pew bows, clothing designs, crafting or decorating projects. Each of the satin ribbons are available at low, wholesale prices in a variety of styles and come in a wide range of widths with a vast selection of colors.
Ribbon & Trim Promotional and Special Deals
JKM Ribbon & Trims, in addition to their regular wholesale ribbon and trim product line, offers promotional and special deals on their web site for various ribbons and trims. Hurry while supplies last! Further, JKM provides exclusive coupons for their email subscribers - Subscribe Today at bottom of the Page!
Popular Holiday Wholesale Ribbon & Trims
JKM Ribbon & Trims is constantly expanding their product line with new ribbon, trims and accessories. Look for new wholesale ribbon & trims throughout the year especially leading up to a holiday season or special time of year to fulfill your needs.
JKM Ribbon & Trims
JKM Ribbon & Trims has been in business since 1996 supplying high quality wholesale ribbon, craft ribbons, discount trims, sewing and quilting needles & supplies, floral supplies, bridal accessories and much more to the craft, bridal, floral, packaging, home sewing, design and specialty markets. JKM's extensive selection of wholesale ribbons, trims and other accessories allows you to order any mix of products with no minimum order which helps you reduce inventory costs. JKM Ribbon & Trims website acts as a real time catalogue to provide you with the latest fashion styles and colors to meet your project needs. We take pride in our excellent customer service, no minimum order, wholesale prices and industry experience to give you a premier shopping experience. Welcome to www.jkmribbon.com